Recent Student Projects
Class Matters: Organizing for Economic Justice Timeline
This timeline came out of a week long course led by Sophia Smith Collection Accessioning Archivist Kathleen Banks Nutter in January 2017. The course introduces students to several SSC collections of individuals' papers and organization records that shed light on the fight for economic justice, especially for American women, both white and of color.
National Welfare Rights Organization poster with the linked circles symbol representing linking of the civil rights and antipoverty movements, undated
---
Women of Rock Oral History Project
Tanya Pearson (Smith AC class 2016) created the Women of Rock Oral History Project in 2015 for her Archives Concentration Capstone Project and the interviews formed source material for her honors thesis. It is the first known oral history project about female rock & rollers. Tanya has donated the interviews to the Sophia Smith Collection.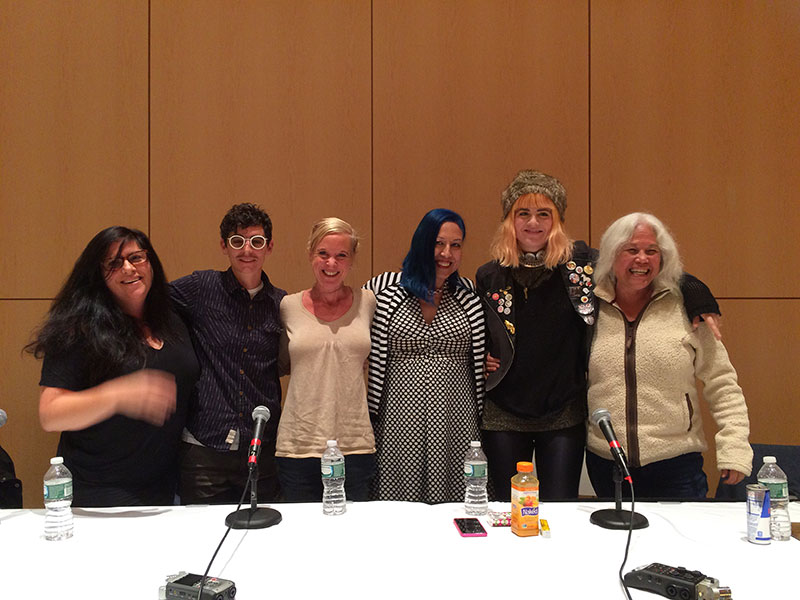 To celebrate the project, Tanya organized and moderated a panel discussion: Righting the Wrongs of Rock History: Women, Gender and Rock, held at Smith College, October, 22, 2015. Panelists (pictured, from left): Julie Cafritz, JD Samson, Kristen Hersh, Alice Bag, Kim House, and June Millington.
Video of the event is available for viewing on the SSC website.
---
Taking the Archives Public
May 2015
For their final projects, the students of ARX 340, the capstone seminar of the Archives Concentration, create exhibits using archival materials from the Sophia Smith Collection and College Archives.
See more student projects on the Archives Concentration website
---
Oral History Projects